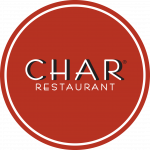 14
Nola BBQ Shrimp
Gulf shrimp | grits | mushrooms | spicy creole garlic butter
17
PEI Mussels
tomato basil broth | toasted baguette
25
No-Filler Crab Cakes
jumbo lump crab | herbs | spices | lemon tarragon butter
10
Pork Rinds
white cheddar, gruyère | comeback sauce
22
Crab Claws
fried or sautéed | cocktail sauce (when available)
11
Spinach Crisp
flour tortilla | spinach | bacon | mozzarella | baby greens | tomato-basil relish
add chicken 7 | add shrimp 8 | *add steak 8
11
Fried Green Tomatoes
cornmeal-encrusted | tomato relish | comeback sauce
7 | 9
Crab, Shrimp, and Andouille Gumbo
add to any salad:
chicken 7 | shrimp 8 | steak* 8 | salmon 8 | tuna* 10
9.5
House Salad
baby greens | cucumber | roasted red pepper | egg | tomato | red onion
11.5
Char Wedge
iceberg | bacon | Maytag bleu cheese dressing | tomato | egg | scallions
11.5
Spinach
baby spinach | Maytag bleu cheese | sliced strawberries | tart dried cherries | almonds | balsamic vinaigrette
19.5
*Tuna Nicoise
baby greens |  ahi tuna |  artichoke hearts |  tomato | egg |  haricot  verts | fried capers | honey white balsamic
19.5
*Steak and Bleu
baby greens | tenderloin (prepared medium rare) | Maytag bleu cheese | roasted pecan | red onion | red bell pepper | garlic crouton | balsamic vinaigrette
17.5
Ginger-Peanut Chicken
baby greens | fried or grilled chicken tenders | roasted peanuts | carrots | cucumber | cilantro | toasted sesame seeds | scallions | ginger-peanut dressing
9.5
Caesar
romaine | Parmesan | garlic croutons | house-made Caesar
Maytag bleu cheese | ginger peanut | buttermilk ranch | comeback | Caesar | balsamic vinaigrette
18
Redfish Sandwich
blackened | brioche bun | lemon aioli | tomato | red cabbage, parsley & coriander slaw | house-cut fries
14
Chicken Salad BLT
brioche bun | chicken |  arugula |  diced tomato | basil | bacon | balsamic mayo |  house-cut fries
15
The Beefeater
whole wheat bread | shaved prime rib | horseradish mayo | beefsteak tomato | Tillamook cheddar | house-cut fries
16
*Char Burger
ground beef | bacon | Tillamook cheddar | lettuce | beefsteak tomato | red onion | house-cut fries
13
Chicken Tenders
buttermilk fried | fries | dijon honey mustard
28
*Steak Frites
8oz tenderloin tails | Bearnaise | truffle fries
43
*Filet
8oz | choice of two sides
17
*Cornbread Dusted Redfish
cheddar grits | spinach | Innerspace Pub Ale crab & crawfish pan sauce
17
Ashley Farms Range Chicken
garlic mashed potatoes | essence-spiced haricot verts with pecans | mushroom pan jus
17
*Pan-Seared Atlantic Salmon
roasted zucchini & squash | broccolini with garlic & chile flakes | sun-dried tomato caper vinaigrette
All Daily Specials are served with your choice of two sides • $13
Monday – Country Fried Pork Chop
Tuesday – Roast Beef
Wednesday – Fried Chicken
Thursday – Meatloaf
Friday – Fried Catfish
Vegetable Plate – Choose three sides 11 | Choose four 13
*Available Monday – Friday 11a.m. – 2 p.m.
collard greens | butter beans | black-eyed peas | broccolini with garlic & chile flakes | creamed spinach | garlic mashed potatoes | chipotle sweet potato mash | house-cut fries | caramelized onion mac & cheese | cheddar grits | fried okra 4
10
Blueberry Bread Pudding
blueberry glaze | whiskey sauce
10
Double-Cut Fudge Brownie
praline pecan ice cream | caramel sauce
10
Pecan Butter Crunch
vanilla bean ice cream | cinnamon Granny Smith apple glaze
10
House-Made Pecan Pie
*These items are cooked to order. Consuming raw or uncooked meats, poultry, seafood, shellfish or eggs may increase your risk of foodborne illness.
Menu items are prepared in a kitchen that uses wheat, nuts, eggs, soybeans, fish, milk and shellfish. Please notify manager if you have a severe allergy prior to ordering.